October 1, 2018
Career Trek is hiring!
Career Trek is hiring!  They are looking for motivated and enthusiastic AME grads or second-year students who are available to work on Saturdays with youth in grade 6 to do hands-on activities related to aviation/aerospace.  There will be 4-weekend sessions for the 2018-2019 school year.
Please email your full name, phone number, length of time in the AME program and any previous work experience to tapdrew@outlook.com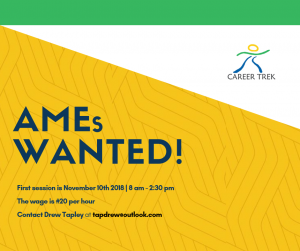 Click HERE for job description.