Manitoba Aerospace All-Stars Awards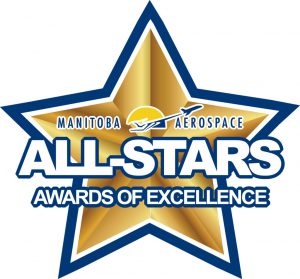 Manitoba Aerospace All-Stars Awards Dinner will be held on November 23, 2023.
Manitoba Aerospace has been hosting the Aerospace All-Stars Awards Dinner since 2001. Each year, Manitoba Aerospace holds an Aerospace All-Stars Awards Dinner to celebrate the aerospace industry in Manitoba and recognize excellence in the aerospace community.
The event is also an important fundraiser, with all proceeds going to the Manitoba Aerospace Student Awards Endowment Fund, which provides financial awards to students to help them access rewarding, enduring careers in the aerospace industry.
"In a demanding industry where excellence is the baseline for performance, genuine excellence is key to the growth and success in our endeavors."
Nominees for the All-Stars Awards of Excellence are teams or individuals who have demonstrated excellence in specific areas which can range from leadership to business growth:
Business Growth
Education/Training
Employee Engagement
Entrepreneurship
Industry/Government Collaboration
Innovation
Innovative Business Practices
Leadership
Process Improvements
Teamwork
Technology Development
Builder*
*The Builder Award recognizes the contributions of an individual or group that has made a significant contribution to the infrastructure of the Manitoba Aerospace sector for the benefit of the entire membership and in the interests of the provincial aerospace industry. The Builder Award will be awarded as merited but there may not be a recipient every year.
We encourage you to help us celebrate excellence in Manitoba aerospace. Consider nominating your own organization, employees or workplace teams, or those of your outstanding colleagues or partners, so that 'excellence' can be more widely recognized, celebrated and rewarded.