August 20, 2020
Congratulations to our CEO, Wendell Wiebe for being appointed as Honorary Colonel of Barker College, 17 Wing, in Winnipeg MB, on August 13, 2020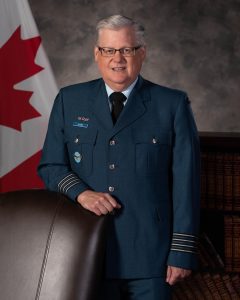 Wendell C. Wiebe M.Ed. B.A.
Wendell C. Wiebe is the Chief Executive Officer of Manitoba Aerospace Inc since April 2016, after Manitoba Aerospace Human Resources Council (MAHRC) merged with Manitoba Aerospace Association (MAA). Previous to the merger, Wiebe was the Executive Director of MAHRC, a position he had held since 2009. Prior to joining MAHRC, Wiebe was employed by Magellan Aerospace Winnipeg for 17 years. His initial position was as the Manager of Staff Development where he was instrumental in creating an employee training and development system and, on a number of occasions; his department was recognized for its innovative programs and collaborative approach. After 10 years of being responsible for the Training function, Wiebe was promoted to Director of Human Resources. Wiebe was Magellan Aerospace's representative on the MAHRC Executive for 17 years and from 1999 to 2004, he served as the Chair. Wiebe has been involved in adult education for over 30 years and holds a Masters of Education from the University of Manitoba. A highlight of his career was being asked to contribute to a book about adult literacy. The focus of his chapter was outlining the business case for the establishment of a workplace literacy program. The book, titled Adult Literacy Now, was published in 2000. Wendell hopes his passion for learning and keen desire to eliminate barriers that can impact students' success will be a positive benefit to Barker College.
For a copy of the press release, click here.